EQC claims and earthquake insurance claims have been front-of-mind for people in Christchurch, Canterbury, Wellington, Kaikoura, Marlborough and elsewhere in New Zealand over the past few years.
Often, it's hard to know if you're getting the full value you should from those claims. And when they're about your home or business - and perhaps your biggest investment - that can be a big worry.
It's essential you get accurate and timely advice about your rights under your insurance policy. Otherwise, EQC or your insurance company might not give your full entitlement.
That's where a good lawyer in your corner will give you peace-of-mind. And hopefully, a much better result than you'd get fighting it alone.
We'll help you with your EQC claims and earthquake insurance claims
We're no strangers to EQC claims and earthquake insurance claims. Since 2010, we've helped people across Christchurch and Canterbury secure the right results from EQC and insurance companies.
So now, when it comes to claims in Kaikoura, Marlborough, Wellington and elsewhere, we can bring all that experience to make sure you get the same positive outcome.
Whether you have an outstanding EQC claim or earthquake insurance claim, we can help. As well as working with the Claims Resolution Service to help resolve claim disputes, we can assist you at every stage. That's from initial loss adjustment to litigating insurance disputes.
Ensure you're getting the best protection and resolution of your EQC claims and insurance claims. Contact Canterbury Legal today.
Resolving inadequate or faulty earthquake repairs
Even when you've made a successful claim, sometimes the work carried out isn't up to standard. Just like with claims, we can help make sure you get your work completed to the right standard.
Litigation funding
We've successfully arranged litigation funding for a number of our clients. That's where a third party company takes on the liability for any costs associated with litigation, in exchange for a share of proceeds if your action is successful. That means that if you need to pursue litigation, you don't need to worry about bearing the costs if you're unsuccessful - which can be a real worry if you're already facing repair burdens.
We can help you find out if you're eligible for funding, and then arrange it.
---
How earthquake insurance works: from EQC to your insurance company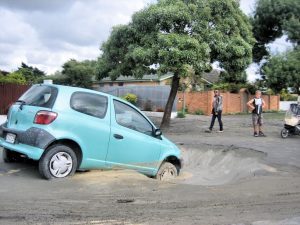 What is the Earthquake Commission (EQC)?
EQC is a Crown Entity which provides the first layer of earthquake insurance cover for residential homeowners. It also covers other natural disasters including landslips, floods, tsunamis and volcanic eruptions (events).
How much can you claim in EQC claims?
The maximum cover for each event is $100,000.00 plus GST for residences and $20,000.00 plus GST for personal contents. If you experience damage in more than one event, your total claim could be higher. You must make your EQC claim for each event within three months of it happening.
Getting your EQC claims sorted
We can advise you about your EQC compensation rights and ensure they treat you fairly.
If it turns out EQC is treating you unfairly, then we can help you with a few options.
If you require legal help with EQC whether you're in Christchurch or another part of New Zealand, please get in touch using the button below.
Earthquake insurance claims from your insurance company
If the repair costs for your property will exceed EQC's maximum cover, your insurance company will take over and top it up to the required amount.
Insurance law requires a lot of specialist knowledge. Insurance companies have a lot of experience and resources to fight their side.
So we're here to help you to help fight yours. Get in touch today for EQC claims and insurance claims advice and support.